WHY CHOOSE GASTRIC SURGERY WITH US?

Chris de Bruyne is the most experienced gastric band surgeon in Europe, having completed over 5000 gastric band operations.


Chris de Bruyne has the lowest complication rate in Europe, this is a published result that all UK surgeons know.

Gastric band surgery costs €4250 (£3000 GBP depending on the exchange rate).

This includes an overnight stay in the hospital and all necessary fees, as well as 3 nights in a 4 star hotel and taxis.

Our surgeon is in the UK every Thursday for consultation, fills, general aftercare and specialist dietary advice.

The hospital is based only 5 miles from Brussels International Airport in Zaventern (10 minutes by taxi).

He is registered with the British General Medical Council.

Only one year after surgery 90% of his patients have reached their ideal weight.

A personal co-ordinator is available to assist at all stages.

No deposit


If you book direct, the band is guaranteed for two years as long as you use our aftercare clinics, which only use the surgeon or a member of his close surgical team to consult and carry out band fills.


3 nights 4 Star hotel accommodation (twin room in 'The Lodge Hotel' in Vilvoorde) is included in the price for you and a companion.

Take advange of great Euro/Pound exchange rates.

Why the band not the sleeve? The band has the benifit that you can tighten or loosen it. With the sleeve 2/3 of your stomach is removed and after 2 years the remaining stomach becomes stretched. We will also fit the sleeve for people who really want (6500euro)it but it tends to be sold by companies who have no aftercare in the UK.

Europesurgery in the news OK Daily Star OK OK OK Daily Star Daily Star Daily Star Echo Daily Star Mirror OK Mirror OK Daily Star
We have an office in the UK that you can call if you have any questions at any stage in the process. Please call us today or email if you would like to find out more: 0208 1444 254
Price €4250 (£3000 depending on the current exchange rate) This is at least 1,500 euro cheaper with aftercare than any UK provider but the surgeon has the lowest complication rate in europe!
IS IT SAFE? Yes we have proof that the surgeon has the lowest complication rate in Europe. This means that he has a lower complication rate than any surgeron in the UK. He is a very experienced surgeon having completed more gastric band operations than any other surgeon in Europe.
REVIEWS
Horizon Programme (Bypass operation also available with Dr Chris for 7500 Euro)
A patient's reviews can be seen on Youtube on the links below:
Video Review 1

Video Review 2

Video Review 3
A different Brussels patient's film is below:
"A friend of mine who struggled greatly with her weight, as I did, told me about gastric banding. She had researched many surgeons in both UK and abroad. Soon she was booked up and away to Belgium for her op. Being someone who had many years of yo-yo dieting and joining weight loss clubs I watched her steadily losing her weight and being transformed before my eyes, I was now so jealous. I started questioning her about her experience and weighing up the pros and cons of going abroad for surgery. (I still can't find any cons)
Eight months later I was having a consultation with Chris in the Edinburgh clinic. He was very thorough in going over everything, how it all worked, what to expect, best place to stay etc. Three weeks later, on the 21st June 2007, I was off to Belgium for my own gastric band. I was a bit nervous being away from home but the worry was short lived. I was completely put at ease straight away at the hospital the next morning.
It was so spotlessly clean, the staff were very friendly and incredibly helpful. Their English was perfect also. The cleaners were in the rooms at least 4-5 times per day (which would never happen in the UK). Also each ward's bathroom had separate patient sinks to prevent cross infection. I was very impressed with the hospital and staff. I would recommend him to anyone who was looking to have a gastric band. The whole experience for me and many others I know, was so positive and I have been known to describe Chris as a surgeon who could "fit a gastric band with one hand tied behind his back in a powercut".
Some people worry about aftercare when going abroad for surgery. Well, the surgeon is in the UK every Thursday and gives patients phone numbers where he can be contacted at all times. Chris recommends a barium swallow x ray is done each year just to check everything is well with the band. This is not practice in the UK which is probably why Chris' patients tend not to have difficulties.
The surgeon has the lowest complication rate for his banding and has done thousands of these operations while it is still a relatively new procedure in the UK. His vast experience and bedside manner are very reassuring to patients and I have already passed friends on to him who have also since been to Belgium for the band. In the past 3 years I have met many of Chris' UK patients and have made some wonderful friends. This surgery has changed my life and I am so grateful to Chris and his team for this. I have lost 6 stone and feel I've been handed my life back."
Angie Ferguson
INTERNET FORUMS
BBC News 13th April

Facebook
For facebook please log into your facebook site first, and then click the click or it will display an error message.

There have also been interesting articles in the press about studies showing that dieting for most people just does not work and people fail to lose the weight. whereas with Chris De Bryune 90 per cent of people with a gastric reach there ideal weight in a year.
Article about diets on yahoo
CONSULTATIONS AND UK AFTERCARE
Consultations are held in Brussels for free and most British patients are happy to have their consultation the night before surgery in Brussels. If you would prefer a consultation in the UK it will be £100. We have clinics at the addresses below. Please contact our management desk for the proper arrangements. The band fills (unlike a lot of other companies in the UK and abroad) are always done by the surgeon or one of your surgical team. This means that the same people who do your operation also do your aftercare. The gastric band is guaranteed for two years as long as you use our Aftercare clinics:
Glasgow
Central Chiropratic & Health Clinic
93 Hope Street, Glasgow G26LD
Birmingham
Chiro Relief
43 George Road, Edgbaston, Birmingham B15 1PL
Dublin
Meridian Clinic Clarehall
Clarehall Shopping Centre, Malahide Road, Dublin 17
Belfast
Bloomingfield Surgery
95 Bloomfield Riad, Bangor, Co. Down BT20 4XA
Bristol
Clifton Physiotherapy
118 Hampton Road, Redland, Bristol, BS6 6JD
Manchester
Calderbank Medical Chambers
599 Wilmslow Road, Didsburry, Manchester, M20 3QD
London
4 Upper Wimpole Street London W1G 6LF
Edinburgh
Park Health Clinic
6 lochside Place, Edinburgh Park, EH12 9DJ
Aftercare clinics with the surgeon or his senior nursing team are held in the UK every week on a Thursday in the above clinics.
Refills cost £100 with our surgeon in the UK. The gastric band used by the surgeon is made by Johnson & Johnson.
The surgeon -CURRICULUM VITAE Dr Chris de Bruyne
Date of birth: 11 June 1965
Licenses obtained:
· General surgeon in Belgium from 1996; license number 45651 (Medical Council Brabant/Belgium)
· Full surgeon (General Medical Council, England) from 2005 (ref. 6135672)
· Full surgeon (United Emirates, Dubai) from 2004
· Doctor in Ireland from 2007
He is a member is a member of the British General Medical Council no 6135672. He is a licensed general surgeon in Belgium, England, Dubai and Ireland. He has over the last ten years operated on more than 5000 obese patients fitting them with adjustable gastric bands. Operations are performed with very low post operative complication rates.
Work experience:
· Worked for a year in 1993 at the Saint Antonius Hospital in Nieuwegein, The Netherlands. The Hospital is one of the most famous hospitals for thoracic and vascular surgery. There Chris began work on the thoracoscopic program.
· Worked as a general surgeon (with the sub-specialisation of advanced laparoscopic procedures) in 1996 at AZ Jan Portaels Hospital in Vivoorde (near Brussels), Belgium. The surgical treatment of morbid obesity became a major part of Chris' work.
· Operated on more than 2,800 obese patients with a laparoscopic adjustable silicone banding and laparoscopic bypass operations. Chris used most of the available gastric bands in Belgium. They all have a CE accreditation.
· Worked at The Emirates Hospital in Dubai from 2004 - 2007. Chris set up the Laparoscopic Adjustable Silicone Banding program there and now it is one of the fastest growing surgical obesity services in the Gulf. From 2006-07 it performed more than 200 gastric band operations.
· Chris has been doing pre- and post-operative consultations for obesity surgery in Scotland (Edinburgh) and London from November 2005.
GENERAL INFORMATION
It is extremely beneficial to have a low fat diet two weeks before your surgery because your liver will become smaller and the operation will be easier.
Airlines that fly to Brussels are Ryanair, Bmi, SNBrussels, Flybe, Brussels Airlines & Austrian Air
If you take the Eurostar to Brussels you arrive at Midi Station. You need to get another train to Vilvoorde station (10 minutes) and then a taxi to the hotel (10 minutes).
On the day of your surgery, you will be admitted to the hospital at 07:15 AM. (The address is Gendarmeriestraat 65 B1800 Vilvoorde ,Belgium (www.azjanportaels.be)). A pre-operative electrocardiogram and blood sample will be taken. You will be operated on under general anaesthetic on the same day and you will be discharged from the hospital the next day at 1PM after the standard post-operative exams.
Our financial fee includes the operation, the adjustable band (made by Johnson & Johnson) and the stay at the hospital for one night and 3 nights in 'The Lodge Hotel' for you and a friend. It excludes any re-operation (which is very rare), transfusion (also very rare) or stay in intensive care (again, very very rare). Please make sure you have a European Health Card. Please organise payment by cash in Euro to the hospital on the day of surgery.
Once a year, following the operation, Chris will need to see you for a check-up, this includes an X-ray of the oesophagus, the band and stomach. You will also need to see the surgeon again to have refills.
HOTELS
You should arrive in Belgium the day before your surgery. We organise for you to stay at The Lodge Hotel with a friend for the three nights. The middle night you will stay in the hospital and your friend stays in the 4 Star Lodge Hotel. This is all included in the 4250 Euro package.



THE ADJUSTABLE GASTRIC BAND - WHAT DOES THE SURGERY INVOLVE?
Laparoscopic Gastric band surgery (Lap-band)
An adjustable gastric band is the most common form of weight loss surgery in Europe and Australia. Recently approved by the FDA (only lap band), it is usually performed by means of a laparoscopy. It is one of the least invasive approaches to obesity because neither the stomach nor the intestine is cut. To-date more than 150,000 Lap-band surgeries have been performed. Since the Lap-band is implantable using minimal-invasive (keyhole) techniques, patients who are extremely obese with heightened surgical risks benefit from the conservative entry to the abdominal cavity.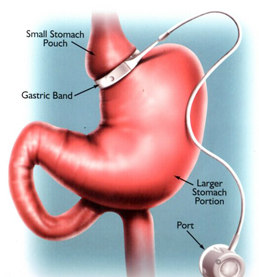 Due to the absence of upper abdominal incisions, the incidence of wound-healing complications, wound infections, postoperative pain as well as incisional hernias are drastically reduced. In addition, this method is cosmetically advantageous due to the absence of a large scar and it is fully reversible. The absence of lasting modifications to the anatomy of the intestinal tract allows for relatively easy restoration to the original state by simply removing the band, which can be done using laparoscopic techniques in most cases.
The band is applied around the stomach about 15 mm below the gastro-oesophageal junction. On the inner lining of the band there is a longitudinal balloon (like a bicycle tire). This balloon is inflated through a small tube attached to a subcutaneous port. The band is left empty at time of surgery but is thereafter gradually filled with fluid by injection through the subcutaneous port. It is thus possible to vary the opening in the stomach after surgery.
The balloon band system can be regarded as putting a straight-jacket on the stomach. The small gastric pouch created above the band limits the amount of food that a patient can eat at any one time, and will result in a feeling of fullness after eating a small amount of food.
The band induces an early feeling of satiety and thereby decreases food intake. Our method as well as other methods for obesity surgery does not however change the basic patient behaviour pattern. If the band is removed the weight will quickly increase to what it was before surgery. This means that the operation is not a definitive solution to the patient eating pattern or the problem of morbid obesity. It however induces sustainable weight loss and therefore it leads to a healthier life with fewer risks for obesity related secondary diseases. The amount of weight you lose depends both on the band and its adjustments and on your motivation and commitment to a new active lifestyle (sports) and healthy eating habits.
HOW DOES THE GASTRIC BAND WORK?
The Lap-Band System involves the laparoscopic placement of a hollow elastic band around the upper part of the stomach. This band divides the stomach into a small upper pouch (15cc) above the band and a larger pouch below the band. The band can help you achieve longer-lasting weight loss by limiting the amount you can eat, reducing your appetite and slowing digestion.
Band Adjustment
Adjusting the size of the opening between the two parts of the stomach controls how much food passes from the upper to the lower part of the stomach. This opening (stoma) between the two parts of the stomach can easily be decreased or increased, by injecting or removing saline from the band. The band is connected by a tube to a reservoir placed beneath the skin during surgery. The surgeon can later control the amount of saline in the band by piercing the reservoir through the skin with a fine needle. Being able to adjust the band is a unique feature of the gastric band and is a normal part of the follow-up.
Expected Weight Loss
In general, most patients find that they are unable to easily tolerate red meat, fresh bread and fibrous foods. You will be asked to eat three meals a day with one planned snack, chew your food very well and swallow slowly. You must only drink either no or low caloric beverages and wait at least several minutes between eating and drinking. Success rate in term of weight loss is heavily dependent on choosing the right surgeon, post op regular follow up including monthly band adjustments and nutritional counselling. We have more than an 90% success rate in term of losing 50% of the excess weight within the first six months. No wonder that gastric banding is gaining huge popularity around the world and surgeons in the United States are reporting an eight months waiting list for the surgery.
Preparing for surgery If the patient is a heavy smoker, surgery should not be contemplated unless the patient can cut down his/her smoking by half several days before surgery. A two-week fat free diet before surgery reduces the amount of fat around the liver. Once the liver shrinks, the operation becomes technically easier and safer. Patients whose weight exceeds 170 Kg are asked to lose weight with the help of medication and other interventions as the procedure carries much more risk when weight is higher.
Blood tests and heart tests are performed the day before surgery.
COMPLICATIONS
Here are the short-term possible side effects of the operation:
Vomiting
Most patients will once or twice feel pain or vomit after intake of food. This is in most cases caused by eating too much and too quick. If eating is slow and calm, patients will learn to listen to the signals from the stomach. Eating should be abandoned if the patient feels nauseated, have pain or vomits. Vomiting after gastic band operations is rare now as gastric bands are fitted higher up the stomach than in the past. This can either be caused by wrong eating behaviour or be caused by the outflow of the gastric pouch becoming too narrow. This means that the band may need to be adjusted through a saline injection into the reservoir under the skin. Regular vomiting should be discussed with the surgeon.
Constipation
Many patients feel constipated after surgery. This is mainly caused by the reduced food intake which leads to less faeces and it is thus normal with fewer bowel movements. If laxatives become necessary, it is advisable to abstain from so called bulking agents and instead use liquid laxatives, such as lactulose. Talk to our team about it.
Hair loss
Taking a multi-vitamin which contains vitamin B will help prevent this happening.
Serious complications - very rare.
Serious complications are not common especially when the surgeon is experienced with this kind of surgery. At the AZ Jan Portaels Hospital and at the Emirates Hospital in Dubai where the surgeon operates, we have performed more than 5000 gastric banding operations and this makes us one of the leading advanced laparoscopic obesity centres in Europe. This surgery was approved in the USA in late 2003 and thus American surgeons who are more experienced in gastric bypass are less experienced in this operation.
These 5000 successful operations were without a single mortality. The gastric band operation is done under general anaesthesia, lasts for about 15 minutes and the patient usually goes home in 36 to 48 hours. The patient must follow the strict instructions in the two months period after surgery to minimize vomiting and complications. They must also follow up with our dietician.
Infection
An infection would require a prolonged hospital stay and may require re-operation and even removal of the band usually through the same previous openings. Infections are extremly rare, and five times less in surgical hospitals such as the AZ Jan Portaels and the Emirates hospital which by definition does not accept patients with chronic diseases or chronic infections than in general hospitals.
Band Migration (Erosion)
Migration occurs when the band migrates through the stomach wall into the stomach lumen. These cases are outright failures and these patients have quickly regained their preoperative weight. The bands we use (Cousin/Heliogast/AMI) has been associated with much lower migration because it is a low pressure system compared to the old bands. Dr Chris has only had one case of Migration in the 5000 patients he has banded.(We think this patient did not follow guidelines and over eat) Migration does not usually occur until 18-24 months after surgery. Patients who have their bands filled too quickly and with high total volumes have an increased risk of migration. This is a reason why we what Chris team to fill the band. Filling must be slow and gradual. If these guidelines are observed the frequency of this type of complication will decrease. This complication is managed by laparoscopic extraction. A new band or a conversion to a bypass can be done after several months.
Port Problems
There have been port problems in about 0.05% of the cases. There are two types of problems. The first is dislocation of the port. It may move around, turn up-side-down and can in this position not be injected. It is thus necessary to adjust it. This is a simple operation in local anaesthesia but nevertheless a nuisance to the patient. The second problem is perforation of the connecting tube close to the port. This occurs mainly with nurses who are not experinced and is the main reason why we insist on the band being ajusted by a member of our team in the UK to prevent this from happening. This leads to loss of fluid, widening of the opening and subsequent weight gain. This is also corrected in local anaesthesia. The port is brought to the surface, a bit of the tube including the hole is cut off, and the remaining tube is reattached to the port and finally the port returned into position. The distal 2 cm of the tube is now covered with a protective sleeve in order to avoid this problem.
Slipping
Here a part of the fundus of the stomach slides upwards above the band so that the pouch will be enlarged. With the older bands and the "old operation technique" (low perigastric position of the band) this happens 10-15%. This gives a bad reputation to these bands. The new generation bands and the new pars flascida technique where the band is places just underneath the oesophageal-gastric junction (leaving a virtual pouch of 15cc) drops this complication to less than 0.05%. This complication is managed by laparoscopic repositioning of the band or placing a new band higher up. When your band is fitted by Dr Chris de Bruyne due to his technique its highly unlikely to slip.
POST-OPERATIVE CONSIDERATIONS
Diabetics who have previously been on insulin should be managed carefully with a 'sliding scale' protocol to avoid hypoglycaemia. It is not unusual for a patient to drop from 90 units per day to 8 units on the first post-operative day and require no more anti-diabetic therapy after four days.
Even though the initial pouch is about 15-20 ml, or the size of a man's thumb, most patients can eat a half hamburger, several French fries, and drink a small soft drink at one time within about six months after the operation. Curiously, it is rare to encounter a patient who complains about not getting enough to eat.
Patients should resume regular exercise which is much easier to do once their weight drops 30-40 kg. They should avoid fizzy drinks and minimize caffeine and cigarettes. The oesophagus should be checked on a yearly basis with an X-ray as the oesophagus may widen or distend if the band is kept very tight for more than a year. Should that occur, relaxing the band for a few months will take care of the problem.
When you consider the possible complications of morbid obesity such as:
· Diabetes
· Hypertension
· Coronary heart disease
· Stroke
· Asthma
· Sleep apnea
· Osteoarthritis (Back, hip and knee pain)
· Stomach cancer
· Uterine cancer
· Colon cancer
· Breast Cancer
· Prostate cancer
· Pulmonary Failure
· Immune suppression
· Reflux (heartburn)
· Stress incontinence
· Hernias
· Varicose veins
· Haemorrhoids
· Pulmonary embolism
· Non-alcoholic steatosis (liver scarring)
· Hypercoagulable states
· Increased accident rate
· Peripheral atherosclerosis
· Infertility and impotence
· Loss of the menstrual period
· Uterine bleeding
· Depression
· Gallbladder disease
· Skin infections
· Focal glomerulonephritis (kidney failure)
· Abnormal cholesterol
· Soft tissue infections
You would then understand that gastric banding, while it has some risks that can be minimized in the hands of good surgeons working with a good team, it carries a lot less risk than remaining obese, or worse - continuing to gain weight.
FREQUENTLY ASKED QUESTIONS REGARDING THE ADJUSTABLE GASTRIC BAND
Q. I feel pretty discouraged and hopeless about my weight. I hardly ever go out, feel ugly have low self esteem. If I lose all this weight, how will my life change?
A. Of course, we can't predict exactly how your life will change after losing 35, 50 or 75+ Kilograms. I can assure you that your life will change and the changes are very likely to be quite dramatic! Over the years that we have monitored our patients, we find that some of the major changes to be: Improved physical status, for example, blood pressure, blood sugar and respiratory regulation), more energy, less body aches and pains, improved sleeping. Improved psychological status, including decreased depression, improved self esteem, improved social skills, more confidence and realistic hope for the future.
Changes in relationship, including family, love relationships, friends and co--workers. In general these changes are positive and exciting. They are also demanding. In order to cooperate with our program, patients must really put their own health care choices first. This is very often a change for our patients, since many have felt depressed and hopeless they have given their own lives the lowest priority. Our patients have to learn to make assertive, healthy decisions for themselves, even when these decisions upset their loved ones. For example, they may choose to go on their exercise walk instead of sitting down and eating pretzels or they may have to deal with their spouse's jealousy or discomfort when they become increasingly attractive and independent.
Body image: Patients undergo incredible changes in how they see and feel their bodies. Losing 100 or more pounds creates drastic changes in body size, appearance, and related areas such as dressing choices, feelings of being attractive and sexy.
Accepting normal body image is sometimes a major challenge for obesity surgery patients! Even though wearing a size 8 dress may be a lifetime goal, some patients require some adjustment time to accept this reality, sometimes still "feeling fat", or worrying that they will gain weight back. We find that as more time passes and patients learn to become experts in managing the program guidelines with their individual lives, they experience more real success, and the new healthy body image becomes more comfortable and reliable
--------------------------------------
Q. Is there any scaring after surgery?
A. There is minimal scaring after laparoscopic surgery. However - if you lose 50 Kg you may need a tummy-tuck to lose skin. That produces a long scar along the entire abdominal midline. After a tummy-tuck the scars will thus look the same whether you have had laparoscopic or open surgery.
--------------------------------------
Q. How many days in the hospital, and how much time off from work is necessary?
A. The patient normally spends one night in the hospital, and can generally be back at work within three to six days.
--------------------------------------
Q. How does the body know when to stop losing weight? (I don't want to look anorexic)?
A. Food is the same thing as gas in your furnace. If you have a bigger house you need more gas to heat it. If you have a small house you need less. So - every human being sooner or later reaches a steady state in terms of weight. You will continue to lose weight until your intake is equal to what your body is consuming. The smaller you get the less you consume, and eventually you stop losing weight.
--------------------------------------
Q. I am a compulsive and emotional eater - do people that eat for these reasons have as much success as the ones who just happen to have large appetites (and aren't compulsive)? I fear that this band will not work for me because one of my worst compulsive tendencies is to eat ice cream, which doesn't seem like it would be restricted by the band.
A. The results might be inferior, but there is no rule. I have patients with the same problem who have had excellent results.
--------------------------------------
Q. How does the band affect reflux and heartburn?
A. The heartburn you have right now is caused by reflux of gastric juice up to the oesophagus. The acid in the gastric juice is not produced in the whole area of the gastric mucosa. It is produced in something called parietal cells. The upper limit of presence of these cells is about 2 inches from the gastro-oesophageal junction. The band is placed above these cells. This means that the band actually prevents acid from running up in the oesophagus. The second factor of importance is the hiatus (the opening in the diaphragm through which the oesophagus goes up into the thoracic cavity). In most individuals the hiatus is tight and no gastric juice is allowed to pass up into the oesophagus. In many obese individuals the hiatus muscle becomes slack - so reflux is actually a complication to obesity. When we perform gastric banding we usually tighten the hiatus muscle with a couple of sutures. The result of both these factors is those obese patients who have oesophageal reflux in most cases experience an instant relief of those symptoms after surgery. The hiatus is tightened and the band prevents the acid from running up. Reflux disease can occur later as a result of dislocation of the band. If the band moves down it comes below the upper limit of the parietal cells and acid is produced above the band resulting in reflux. This nowadays not so common and we always try to prevent dislocation of the band by suturing it in place.
--------------------------------------
Q. Will I have excess flab all over my body and need cosmetic surgery later?
A. It is hard to determine how much loose skin you will be left with after weight loss. This depends on many factors such as skin elasticity, genetics and how much weight you have lost. However some patients do require a tummy tuck procedure later especially if they have lost 50kg+
--------------------------------------
Q. Can I get pregnant with the band and would the baby receive enough nutrients from me?
A. Oh yes - no problem. You will in fact have easier to become pregnant and your child will be healthier because you will have lower blood sugar. It is good to wait about six months after surgery before getting pregnant so that you get over the first phase of rapid weight loss after surgery. There are no special dietary requirements after surgery. The rule is that the baby always takes what he/she needs. So, you can feel confident that there are no problems with pregnancy should you decide to have surgery. You should open up your band when you are pregnant.
--------------------------------------
Q. How long can I keep the band in my body?
You can keep the band for 2-15 years. You should not consider removing it unless you are sure your weight is stable and you do not need it anymore. We remove the band through a scope via the same previous small scars we used to place the band previously.
Please send me by e-mail your basic information such as weight, height, date of birth any co-morbidities (diabetes, arterial hypertension etc), any previous operations, medication…), smoking habits and any allergies. europesurgery@yahoo.co.uk To work out you BMI please visit the NHS Direct Site .
CONTACT US
Please send me by e-mail your basic information such as weight, height, date of birth any co-morbidities (diabetes, arterial hypertension etc), any previous operations, medication…), smoking habits and any allergies. europesurgery@yahoo.co.uk To work out you BMI please visit the NHS Direct Site
<!//-->
This site is copyright protected